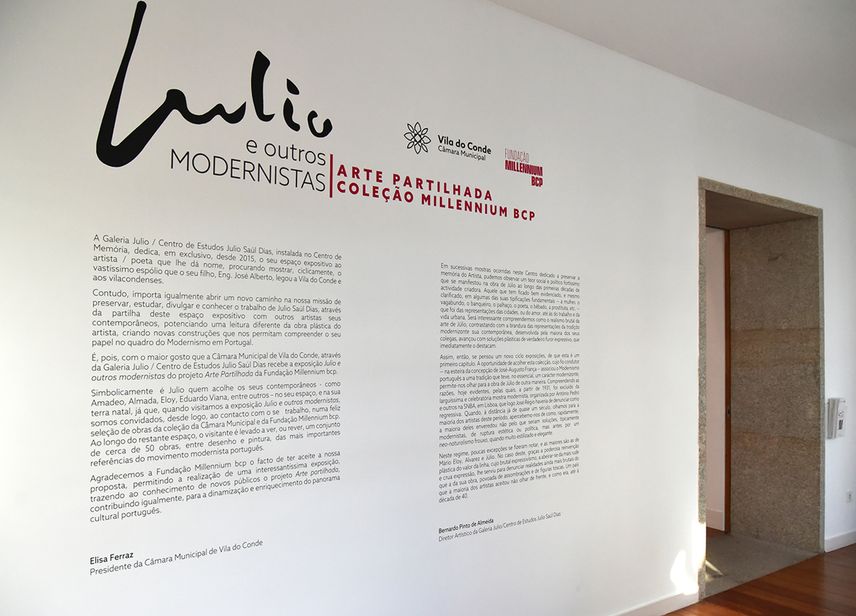 The exhibition of painting and drawing "Julio and other modernists" was inaugurated on May 24, at 7:00 pm, at Galeria Julio / Memory Center of Vila do Conde. The show is the result of an invitation to the Millennium bcp Foundation, by the Town Hall of Vila do Conde, under the "Shared Art" project.
Continuing the mission of preservation, study and dissemination of the work of the artist and poet Vilamondense, Julio Saúl Dias, Galeria Julio hosts a vast collection of plastic works by his contemporaries, some of them linked to Vila do Conde, representative of Modernism in Portugal , fostering a new reading of the artist's works.
Amadeo de Sousa Cardoso, Almada Negreiros, Eduardo Viana, António Carneiro, Mily Possoz, Carlos Botelho, Jorge Barradas, Mário Eloy, António Soares, Bernardo Marques, Francis Smith, Dordio Gomes and Carlos Carneiro, symbolically welcomed by Julio in his hometown, will be represented in this great show that will bring together more than 80 works of different techniques, including painting and drawing, from the Millennium bcp Foundation collection and Vila do Conde Town Hall collection.
The exhibition will be open until September 22.
Tuesday to Sunday // 10am to 6pm
Largo de S. Sebastião
4480-706 Vila do Conde
Phone: 252 248 468
Email: centro.memoria@cm-viladoconde.pt